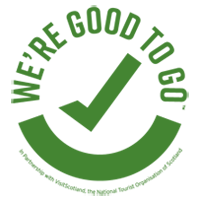 We love Britain & Ireland and we love welcoming travellers to this part of the world to show you places that you wouldn't normally see.
We remain true to our values and want to show these beautiful regions in a way that respects each of you as individual travellers, while in equal measure respecting the communities that we visit.
We're Good to Go is the industry standard that has been created across all 4 nations in the UK to show that we as a business have followed the government and industry guidelines, have an updated risk assessment in place and have the processes in place to maintain cleanliness and aid social distancing.
Click the dropdowns below to reveal details of the measures we've put in place to make your trip feel all the more comfortable in the moments when you're not out there in the wild places of England.